day 165 flickr project365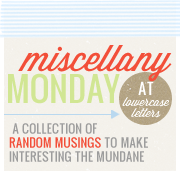 linking up to carissa's miscellany monday linky!
1. this is no surprise to people who know me but i got my dates confused. i thought my parents were flying into charlotte on wednesday. they are actually flying in tomorrow night! yikes!
2. did you know you can upload all of your pics to a cd at costco for only $2.99? what a deal and i just transferred all 1,500 photos to a cd this morning.
3. we are a house divided. the celtics are going to win the finals! i can feel it in my bones! my kids are for the lakers. boo lakers!
4. this is a philippine mancala game called sungka. i use to play this game all the time with my lola (grandma).
5. speaking of the philippines, i am filipina but grew up here in the states so i enjoyed this fact about the country where my roots are from.
"the philippines just celebrated their 112 years of independence!"
i came across a post from a new bloggy friend
cheri

.
she wrote this tid bit of history about the philippines:
we used to be a colony of spain and the US. the british wanted in, too, and the japanese occupied our land. after liberation, we were granted our own government under the commonwealth. call it a government's on-the-job training. the US recognized our freedom on july 4, 1946, but one of our presidents transferred the date to june 12, in accordance with the original date we first unfurled our flag and first played our national anthem.
hope ya'll are having a very loveLee monday!