i think i may have frequented starbucks
a little too often this weekend...
i registered last minute for the jingle bell run for arthritis
in celebration of my girl shelly's 40th birthday.
that shall be my final and last run of the year.
there are many, many, many churches here charlotte...
we happened to drive by this one and fell in love with
the christmas ensemble of the garland around the doorframe
and the wreaths hung on the beautiful church doors...
toast with peanut butter, honey and sliced bananas
we finally finished decorating the tree...
(this is a pre-lit tree but being that it's 9 years
old
80% of the lights no longer work
and
despite the frustration with having to string
lights on them, i still love this tree.
it just stands so tall and perfect).
homemade vietnamese chargrilled pork
over garlic fried rice for sunday dinner...
and online registration for tickets to
an elevation church experience!
that's a tidbit of our weekend
gone by...
i'm sure yours was filled with lots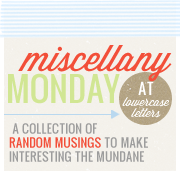 (

linking to lowercase letters)