pasta with pesto is one of our favorites and very simple to make. simple when it comes to cooking...that's me! if it's more than 6 ingredients i start to stress : ). anyhoo, no measurements for this meal...just the ingredients and some directions.
some fresh bottled pesto. we get ours at costco but i've also gotten pesto at trader joe's and i'm sure they will have some at your local grocery store.
boil a bag of pasta, we prefer bowtie. grill some chicken with your favorite seasoning and slice cooked chicken.
cook some fresh mushrooms in olive oil or butter. and cut up some tomatoes.
toss, pesto, cooked mushrooms, sliced chicken, fresh mozzarella cheese and fresh tomatoes together in a pasta bowl and there you have it. a very yummy and quick pasta with pesto for a meal!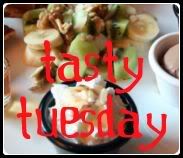 bon appetite!