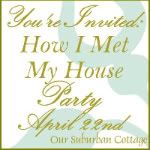 ann nicole is hosting a "how i met my house party". i'm about 3 days late but i still have a few hours before the party closes. go check out her site. there are so many who have joined the party and lots of beautiful homes to look at.
i met my house October of 2006! to make a long story short, God's providence was definitely evident in uprooting our family and leaving our home state of california to move to north carolina. he moved mountains to get us here and to tell the whole story would be a book of a post so i will just continue with how we met our current home.
anyhoo, mr L. and i flew into charlotte and worked with a realtor i found online. she took us through so many different homes and different neighborhoods and fell in love with many but it was either over the budget, too far from the school that we wanted our kids to attend, or too far of a commute to mr. L's job.
here were a few requirements in what i was looking for:
1. a white house with black shutters (just like steve martin's in the movie father of the bride my all time favorite dream home but with a front porch.)
OR
2. a four sided brick house with a porch
a front porch was a requirement so i can have a couple of outdoor rocking chairs.
AND
3. a side load garage
AND
4. a nice size backyard with some mature trees.
well, on the 2nd day of our house hunting adventure our realtor's daughter went into labor so she couldn't bring us around to look at houses so we went driving around ourselves. we turned into our current neighborhood and loved the community. there were only 2 homes currently on the market but we both fell in love with this.
day 115 flickr project365
however, it wasn't a white house with black shutters, nor a 4 sided brick house with black shutters but a brick front house with 3 sided hardiplank siding. we called our realtor and she met us the next day to view the home. loved everything about it but my most favorite is the black shutters against the brick...
the front porch and the back screened in porch (which was a bonus and not even on my list of requirements)...
and the space for where my 3 teens can bring their friends and hangout which is quite frequent and for extended family when they come to visit.
it's a
loveLee
of a house but i do look forward to the time when we can downsize and find a small cottage or bungalow just for the mister and me oh, and maybe for the grandbabies who will be visiting.